Jul 21 - Jul 25, 2024
2024 17 Softball World Series II
You're invited to the ultimate softball experience, the 17 Softball World Series hosted by 17 Softball in Sandusky, OH! Sports Force Parks offers the best weeklong value and experience you will find anywhere in the country! These games are planned with the entire family in mind and include all-access passes for all participating players to Cedar Point Amusement Park and Cedar Point Shores, competition at the best sports complex in the Midwest, and planned activities throughout the week for all members of the family.
Minimum roster requirements include 11 players and 2 coaches. A $350 non-refundable deposit is due at registration. This package includes an 5-DAY ALL-ACCESS Pass to Cedar Point Amusement Park and Cedar Point Shores Waterpark for registered players and up to three coaches, gift packages and tournament softball!
Cost: $1,345 per team
Tournament Details:
NO PARKING FEE
Custom 17 Softball pins for all participants
Teams play a minimum of six games with the opportunity to play up to nine games
ALL games on-site!!
Players, and up to three coaches, receive a FREE 5-day pass with in/out privileges to Cedar Point and Cedar Point Shores Waterpark. Tickets will be sent electronically prior to the start of the tournament following the completion of the parental waiver.
Ropes course, miniature golf, and more all located on-site and FREE for players, coaches, and spectators
Gift packages for ALL registered players and coaches
Discounted tickets to Cedar Point and Cedar Point Shores water park for friends and family!
Opening ceremonies and skills competitions on Sunday
Five scheduled pool play games and elimination game guaranteed
Semi-final and Championships on Thursday
When/How do we receive our Cedar Point Player Pass?
Once rosters and the electronic player waiver are completed, an email will be sent from Sports Force Parks at Cedar Point Sports Center (info@sportsforceparks.com) with the subject line Tournament Player Pass for Cedar Point from Sports Force Parks. This email will contain a QR code that can be used to redeem the FREE 5-day Cedar Point Player Pass at the Main Gate of Cedar Point and Cedar Point Shores. Passes will be sent to the email that was used to complete the electronic player waiver. To avoid delays in receiving your pass, please complete the waiver no later than 10 days prior to the start of the tournament/event. Questions and concerns regarding your Cedar Point Player Pass should be directed to info@sportsforceparks.com.
Team Check-In:
All teams must complete the team check-in process 30 days prior to the start of the tournament. Follow the steps below so that your team is ready to play!
Roster & Electronic Parental Waiver: Every player must have a completed electronic Parental Waiver, signed by their guardian, in order to receive their Cedar Point pass. Please invite players to your roster by logging into the account that was used to register you team for the tournament. You can access your account by following this link and logging in in the upper left hand corner.
Certificate of Insurance: Please send your Certificate of Insurance via email to Mike Virgin at mvirgin@sportsforceparks.com. The following must be listed as an "additional insured":
- Cedar Point Park, LLC: 1 Cedar Point Drive, Sandusky, OH 44870
- Sports Force Parks Sandusky, LLC: 3115 Cleveland Road W, Sandusky, OH 44870
- Cedar Fair L.P.: 1 Cedar Point Drive, Sandusky, OH 44870
- Sports Fields, Inc.: 3760 Sixes Road, Suite 126-331, Canton, GA 30114
- County of Erie, Ohio: 2900 Columbus Avenue, Sandusky, OH 44870
Ticketing
There is a $24 event-long and $12 single day admission fee for guests over the age of five years old. Player and coach admission is included in the tournament fee. Park admission includes unlimited access to the Sky Trail Ropes Course, Putt-In Bay Miniature Golf! Tickets purchased prior to the event will be sent as a QR code to your email. Tickets can still be purchased at the park upon arrival.
Lodging
Sports Force Parks at Cedar Point Sports Center has partnered with Oakwood Lodging Group to assist with all of your tournament housing needs. All rooms MUST be booked using Oakwood Lodging Group. They offer the lowest rate online and have access to a wide variety of hotels/resorts in the Sandusky area! Check availability and a full list of the hotels by visiting Oakwood Lodging online listing or calling 844-421-4210.
Teams from the local area (within 70 miles) are not required to stay in a hotel and can choose to commute to the park each day. We will use the Head Coach's address to determine this. Non-local teams that choose to book outside of this lodging process will be assessed a $500 fee upon team check-in.
Location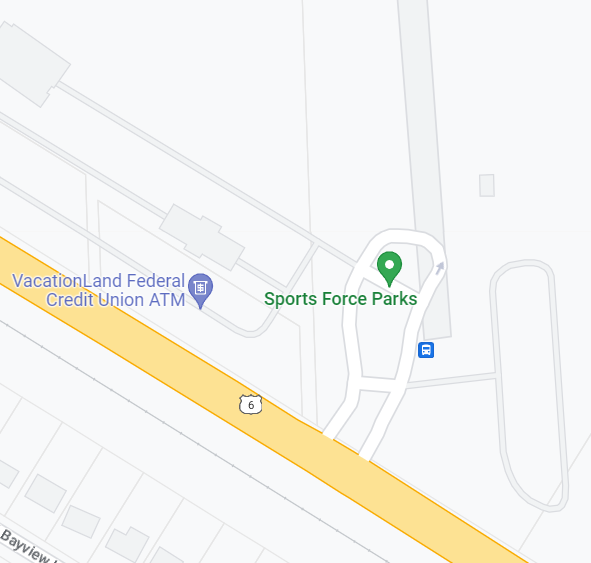 3115 Cleveland Road W Sandusky, OH 44870