Oct 7 - Oct 8, 2023
Columbus Day Classic
Participants
Boys and Girls
Cost:
U9-U10 (Birth Years 2015-2014): $525/Team
U11-U12 (Birth Years 2013-2012): $550/Team
U13-U15 (Birth Years 2011-2009): $575/Team
*Please refer to the age determination chart, 2023-2024 season for additional detail.
Each Team Will Receive:

Players and up to two (2) coaches receive a FREE 5-day pass with in/out privileges to Cedar Point and Cedar Point Shores Waterpark. Tickets will be sent electronically prior to the start of the tournament following the completion of the parental waiver (below.)
Discounted tickets to Cedar Point and Cedar Point Shores Waterpark for friends and family!
Three guaranteed games on synthetic turf fields
ALL games on-site for the duration of the tournament
Certified referees
High quality on-site concessions
Free parking
When/How do we receive our Cedar Point Player Pass?
Once rosters and the electronic player waiver are completed, an email will be sent from Sports Force Parks at Cedar Point Sports Center (info@sportsforceparks.com) with the subject line Tournament Player Pass for Cedar Point from Sports Force Parks. This email will contain a QR code that can be used to redeem the FREE 5-day Cedar Point Player Pass at the Main Gate of Cedar Point and Cedar Point Shores. Passes will be sent to the email that was used to complete the electronic player waiver. To avoid delays in receiving your pass, please complete the waiver no later than 10 days prior to the start of the tournament/event. Questions and concerns regarding your Cedar Point Player Pass should be directed to info@sportsforceparks.com.
Tournament Details:
Tournament schedule and format will be announced 3-5 days prior to the tournament start date.
There is a $17 event-long admission fee for guests over the age of five years old. Player and coach admission is included in the tournament fee. Park admission provides access to the Sky Trail Ropes Course and Putt-In Bay Miniature Golf!
Any questions may be directed to Mike Virgin - Contact him at mvirgin@sportsforceparks.com or (419) 502-2524


Team Check-In:
All teams must complete the team check-in process 30 days prior to the start of the tournament. Follow the steps below so that your team is ready to play!
Roster & Electronic Parental Waiver: Every player must have a completed electronic Parental Waiver, signed by their guardian, in order to receive their Cedar Point pass. Please invite players to your roster by logging into the account that was used to register you team for the tournament. You can access your account by following this link and logging in in the upper left hand corner.
Player Cards: When registering your team, you will be asked to upload your player cards. If you have any issues, please contact info@sportsforceparks.com.


Lodging:
Sports Force Parks at Cedar Point Sports Center has partnered with Oakwood Lodging Group to assist with all of your tournament housing needs. All rooms MUST be booked using Oakwood Lodging Group. They offer the lowest rate online and have access to a wide variety of hotels/resorts in the Sandusky area! Check availability and a full list of the hotels by visiting Oakwood Lodging online listings or calling 1-844-421-4210.
Teams from the local area (within 60 miles) are not required to stay in a hotel and can choose to commute to the park each day. We will use the Head Coach's address to determine this. Non-local teams that choose to book outside of this lodging process will be assessed a $350 fee upon team check-in.
Location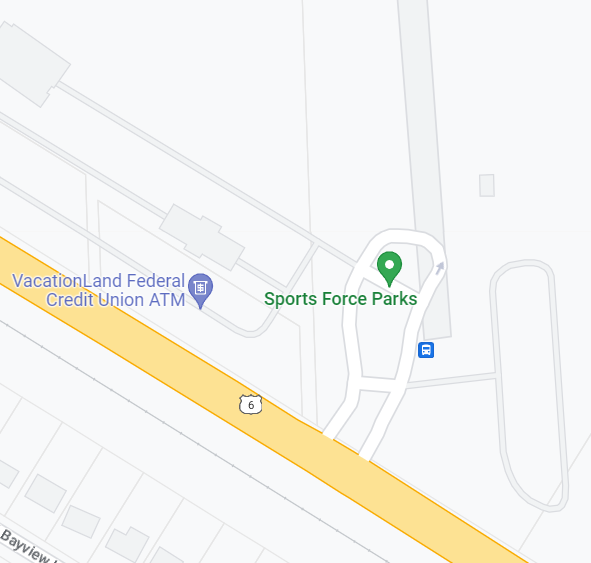 3115 Cleveland Road W Sandusky, OH 44870